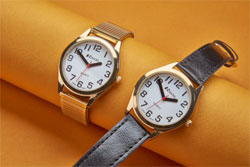 W6 Easy to See Watch
An attractive quartz watch with a clear easy to see display. The case is gold coloured and the watch has a good quality movement. Please note this watch does not speak. Available with either a leather strap or a gold plated expanding bracelet with a stainless steel back.
Case size: 34mm - 1.33" (Dia) x 8mm - 0.31" (Think)

Also available in a JUMBO size, with the same details as above.
Case size: 37mm - 1.61" (Dia) x 7mm - 0.31" (Think)

Please select the correct "Add to basket" below for your required watch and strap type.