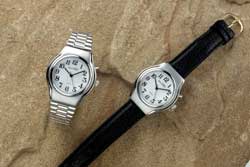 W15 Talking Gents / Ladies Wristwatch
This watch has a female voice and has been designed specifically for ease of use. The depress of the single button gives the time. The buttons for the adjustment of the spoken time are postioned on either side of the case and are recessed to prevent inadvertent operation.

Please note this item does not have an alarm or hourly report functions

Available with either black leather strap or expanding bracelet.

Gents case size 36mm - 1.41" diameter x 13mm - 0.51" thick.

Ladies case size 32mm - 1.25" diameter x 12mm - 0.47" thick.

Powered by 1 x CR2016 Lithium battery and 1 x SR621 Silver Oxide battery (supplied).


PLEASE NOTE VOICE MAY DIFFER FROM SOUND SAMPLE BELOW