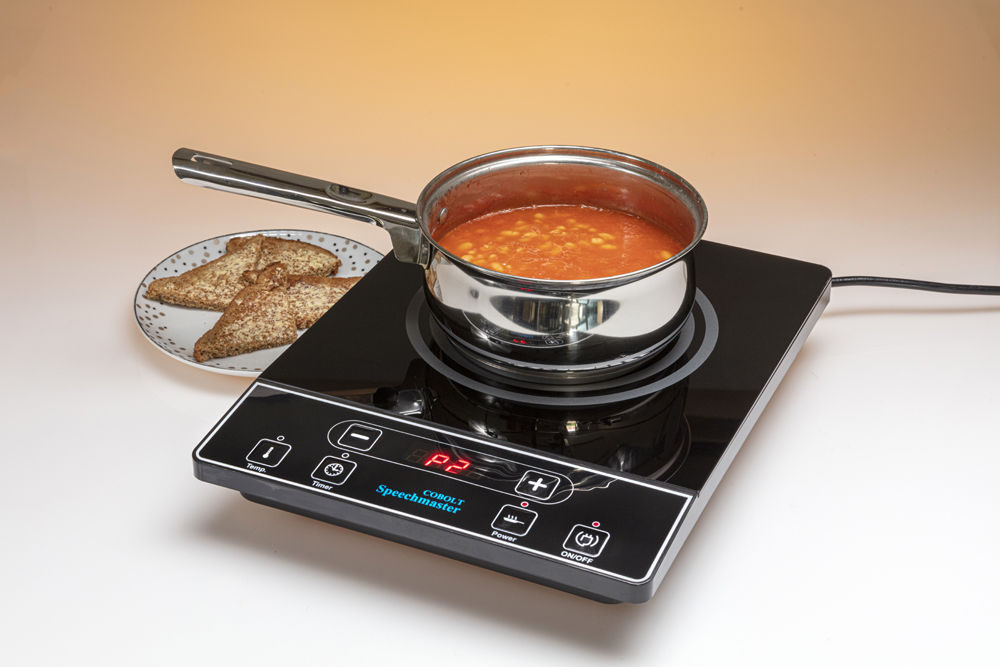 Talking Single Induction Hob
At last, all the advantages of Induction Cooking made available with the inclusion of speech, in our new Single and Double Induction Hob Units.

It is extremely safe, very fast, easy to clean and compact. Very simple to operate, cooking can be done by selecting either power level or temperature. A timer is also included to enable the hob to turn off after a preset period. The hob is warm after use, but not hot, removing any danger of the user burning themselves. The hob turns off immediately when a pan is removed.

All functions are spoken in a clear, male, English voice. The controls have a good tactile feel and the hob has a smooth wipe clean surface. Pans used must contain Iron and a magnet is included so that you can check your existing pans. We can also provide suitable pans if required.

Power 1,800W - Size 28cm(L) x 35cm(W) x 7cm(H)

Please note: If this item is returned for a refund, we will arrange for it to be collected but due to the transport costs involved, we will have to make a charge for carriage. We therefore advise you try one of these hobs at a local resource center before ordering.

This product operates on 220v - 240v therefore is not suitable for use in America.

Please note: due to the delivery costs of this item, orders placed from countries other than England, Scotland or Wales will be subject to an additional delivery charge. Contact with us is advisable prior to ordering.