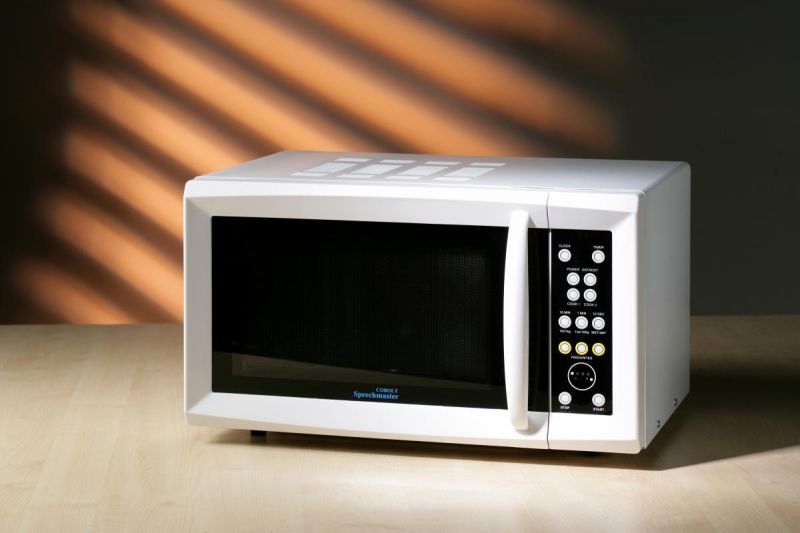 Talking Microwave MK6A (new with slight cosmetic damage)
With three "Favourite" buttons to store your three most frequently used programmes and a fully tactile and wipe clean keypad, the microwave has a power rating of 800 watts and is a 25 litre / 0.9 cu ft oven. It has a full range of features, including: rotating turntable, talking clock, adjustable speech volume and talking kitchen timer independent of the oven. Basic operation is by selecting power level and time. Programmed operation is by selecting cook / defrost, food type and weight or by selecting from a range of frozen and un-frozen convenience foods and weight. It has auto-minute and programme pause functions, spoken requests to stir or turn food during cooking and to leave food to stand after cooking. The oven speaks when the door is opened or closed and speaks confirmation of functions selected and cooking time. The time remaining is spoken at the press of a button at any stage whilst cooking. The microwave has a rugged stainless steel interior. Remarkably easy to use. Instructions available in large print or on CD.

Size External: 515 mm 20.2" (W) x 322 mm 12.6" (H) x 400 mm 15.7"(D)

This product operates on 220-240v therefore is not suitable for use in America.

Please note that if this item is returned for a refund we will arrange for it to be collected but, due to the transport costs involved, we will have to make a charge for carriage. We therefore advise that, if possible, you try one of these ovens at a local resource centre before ordering.

PLEASE CALL US TO FIND OUT WHAT COSMETICALLY DAMAGED OVENS WE HAVE. PLEASE NOTE THE PRICE BELOW MAY VARY DEPENDING ON WHAT WE HAVE AVAILABLE.