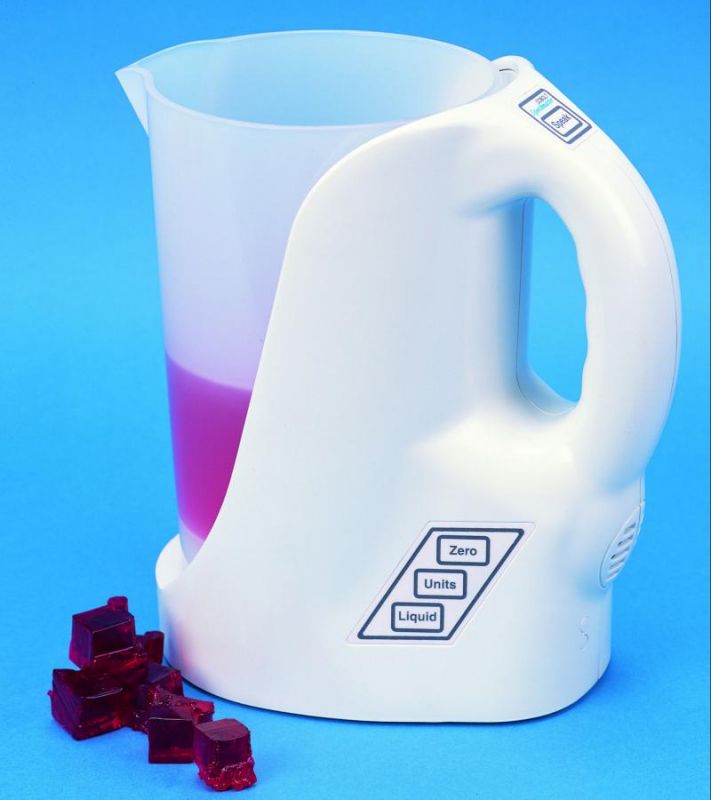 Talking Measuring Jug
This jug has our high quality male voice. It measures in imperial - pints and fluid ounces, metric - litres and millilitres and U.S. - pints and fluid ounces and can convert its readings between any of these.
The user selects the type of liquid to be measured, either water, milk, oil based or user defined. Liquid can be added either with the jug on a worktop or held in the hand. The contents of the jug are spoken at the press of a button or automatically as a liquid is added. A Tare function enables the reading to be set to zero once a measurement has been taken, without emptying the container, to allow a measured volume of a second liquid to be added. The user defined function allows the jug to be calibrated for any liquid, or indeed any solid if your recipe calls for a litre of sugar for instance! The container is removable for easy cleaning and can hold up to 2 litres of liquid. Speech volume is adjustable.
Size: 150mm - 5.90" (w) X 240mm - 9.44" (H) x 210mm - 8.26" (D).
Powered by 1 x PP3 9v alkaline battery (supplied).
Jug vessel is only microwave and dishwasher safe.
To watch a customer YouTube video on this product please click the link below or alternatively copy the web address to your browser.
"Click this link"
https://www.youtube.com/watch?v=HE7B-4keaSc