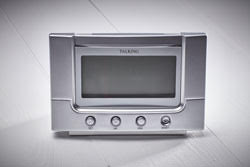 T22 Talking Dual Voice Clock
This new unique talking dual voice clock gives the user the option of using male or female speech. Simply press the large button on the top of the clock and the current time will be announced. The clock has a daily alarm and the option to set an hourly report. It also has a switch on the back to adjust the volume.

Size: 124mm 4.88" (w) x 46mm 1.81" (d) x 82mm 3.26" (h)

Powered by 2 x AA 1.5v batteries (included).