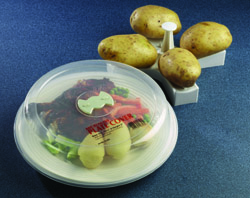 Potato baker & Plate Cover
POTATO BAKER
Place up to four potatoes on the baker to ensure easy, even cooking. Dishwasher safe.

MICROWAVE PLATE COVER
The microwave plate cover can be used to stop splashes in your microwave when heating food. With air vent for perfect reheating. Dishwasher safe. Size: 270mm - 10.62" (Dia) X 50mm - 1.96" (H).

Product may vary slightly from picture shown.



The prices of these products inc VAT.