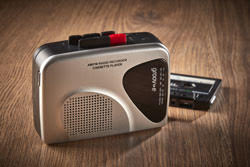 Portable Cassette Recorder
This portable cassette recorder is a convenient and reliable solution for recording live audio while being small enough to fit in a briefcase or purse. Also included are a built in speaker and microphone, earphone and AM/FM Radio. This has no Microphone socket.

Size 115 mm 4.50" (L) x 95 mm 3.75" (H) x 37 mm 1.50" (D).

Powered by 2 x AA Alkaline batteries (included).