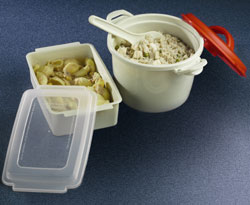 Microwave food container & Rice cooker
MICROWAVE RICE COOKER
The steam circulation system specially designed for the microwave rice cooker offers considerable benefits over traditional rice cooking in terms of time and efficiency. Not only does it maintain the water content in the food, it also provides even heating to give the best results. This rice cooker is made of high quality plastic which is heat resistant, durable and easy to clean. The special locking device ensures the functioning of the steam circulation system. The handle is made of low heat-conducting material to provide safe handling. The cooker is dishwasher safe.

MICROWAVE FOOD CONTAINER
An ideal size, this container can be used in the microwave and freezer. Size: 220mm x150mm x 75mm. Dishwasher safe and designed for table service.

Product may vary slightly from picture shown.



The prices of these products includes VAT.