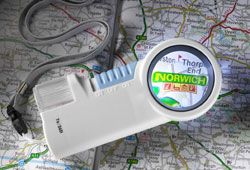 HandHeld Magnifier
A powerful magnifier with a built-in light which provides a clear image for reading. The lens diameter is 42mm and the unit weighs 69g. The unit also includes an independent torch on the opposite end to the magnifier. Available in three different lens magnifications x7, x9 or x11.
Supplied with a case and neck strap.
Size: 55mm - 2.20" (W) x 134mm - 5.27" (L) x 24mm - 0.94" (D).
Powered by 3 x AAA Alkaline batteries (included)

Please select the correct ''Add to basket'' for the magnification required.