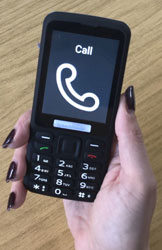 Fully Talking Blindshell Mobile Phone
All Keypad buttons and functions are spoken. Very easy to use - can be controlled by either keypad or spoken commands. Voice recognition allows spoken input for many functions, including texts, emails, calendar and address book. Sent and received texts and emails are spoken. Calendar, Calculator, internet and FM radios, adjustable text and screen colours, adjustable text size. Alarm, timer, voice recorder, colour indicator, music player and book reader. Bluetooth and wifi connectivity. Accepts 2 sim cards. SOS emergency button and 10 speed dial buttons. Local weather report and location finder. Spoken object tagging using included labels. Spoken interactive tutorial available at all times. 2 year warranty and free lifetime updates. Voice input requires data roaming or wifi. Spoken information, including texts and emails, does not require data roaming or wifi. The Phone comes with a charging cradle which makes recharging the phone very simple and easy. This phone is available in either Black or Red, please remember to specify using the drop down box below.
Dimensions - 13.3cm x 5.6cm (5.24" x 2.2")
PLEASE NOTE: due to the delivery costs of this item, orders placed from countries other than England, Scotland or Wales will be subject to an additional delivery charge. Contact with us is advisable prior to ordering
Please find below a link for a YouTube video outlining the functions and development of the Fully Talking Mobile Phone.
Blindshell Classic YouTube Video