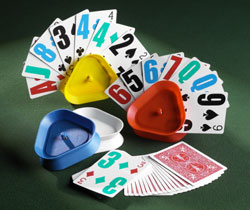 Easy To See Low Vision Colour Playing Cards With Card Holders
These playing cards have large letters and numbers which measure 40mm in height and each suit has a differing colour of black, red, green and blue for easy recognition. Size of cards: 63mm - 2.48" x 88mm - 3.46". The cards include a pack of 4 card holders of various colours. Each holder will hold up to a full deck; pull one card out and the others stay in place which makes playing easier. The card holders allow the user to hold their cards in their hand or alternatively the holder can be stood on a flat surface.

Please note: Holders are available to purchase separately.