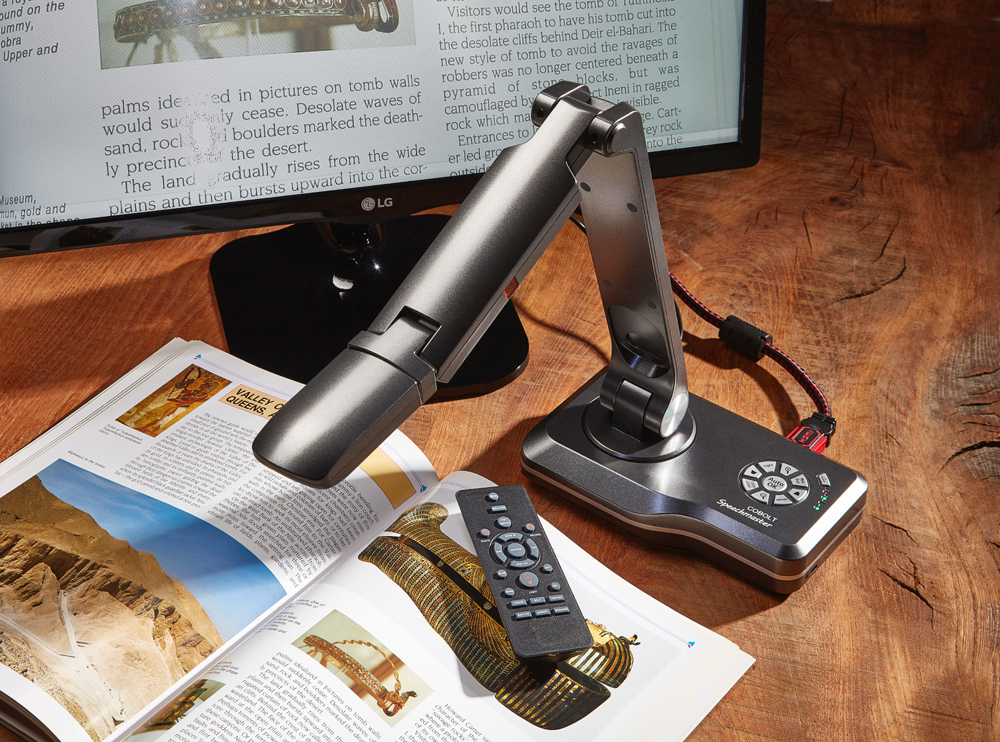 Desktop Video Magnifier
This high performance desktop magnifier with 8.0 mega pixel camera and auto focus can be displayed and used on a TV with HDMI or a Computer with USB.
- This easy to use device is ideal for magnifiing books, paperwork, magazines and craftwork.
- Multi-point adjustable swivel arm allows multiple positioning of the camera head for hands free use.
- Zoom in up-to 100x using either the remote or controls on the magnifiers base.
- Adjustable LED light combinations to change the brightness and contrast.
- Complete with software to use with windows based PC's which allows storage, annotation of documents and OCR functions.
- Pictures and videos can be taken and stored as a file on the computer.
- SD card slot for saving documents and videos in stand alone mode. (SD card not supplied)
- One touch auto focus on near and distant documents, books and objects.
- Split screen allowing the live image and a saved images to be displayed next each other.
- Folds away neatly for easy transportation and storage.
- 3 colour modes.
- Rotate images through 360 degrees
Powered by a 12V mains adapter. (supplied)
Dimensions 18.5cm x 11.0cm x 32.0cm
Stem length 28cm
Head width 4.5cm
12 month warranty.
To watch a YouTube video tutorial on this product please click the link below or alternatively copy the web address to your browser.
"Click this link"
https://www.youtube.com/watch?v=nGqfnXnKpwc