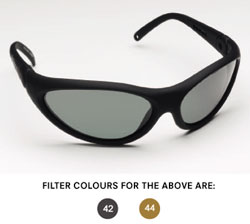 Deluxe Polarising Semi wrap-around Glasses
These anti glare glasses have polarising lenses which help to reduce reflective glare; e.g. from glass, water or snow. They are available tinted in grey or amber in one size only.
Please note these glasses are not designed to wear over normal glasses and do not have the top or side screens of our full wrap-around models.
Not recommended for driving as the lenses can distort the view through vehicle windows.
To select the required tint ensure to click on the corresponding ''Add to basket'' tab below.