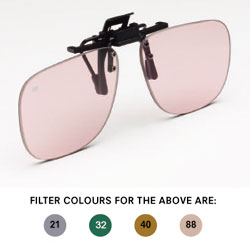 Clip on with Flip up style Anti-Glare Glasses
These anti-glare glasses can be used in conjunction with normal glasses, the style allows them to be flipped up when not in use.
Offered in small and larger sizes there is a choice of four colour filters available.
To select the required tint ensure to click on the corresponding ''Add to basket'' tab below.
Please state in the Special Delivery Instruction box on the payment page which size is required.