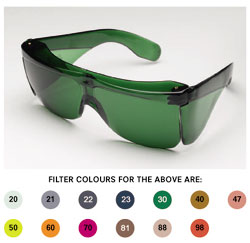 Anti-Glare Fit Over Glasses
LIMITED STOCK AVAILABLE.

These wrap around anti-glare glasses are made from durable, shatterproof polycarbonate. They are designed to be worn with or without normal glasses and provide all round protection with both top and side shields.

Tint 465 - 70% Yellow.
Tint 47 - 40% Topaz.
Tint 708 - 1% Dark Green.
Tint 88 - 40% Light Plum.
Tint 98 - 59% Light Red.

All of these tints are available in either a medium size or a small size with the exception of tint 88 which is only available in a small size and tint 708 is only available in medium.